BioLam is a thermal lamination film, enhanced with a patented antimicrobial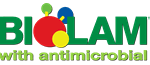 compound, that inhibits the growth and reproduction of bacteria and other damaging microbes.  This antimicrobial surface allows BioLam to reduce and control the growth of bacteria on laminated documents.  Printed documents are frequently handled by many, perpetuating the growth of bacteria, mold and mildew.  Some items, such as menus in a restaurant, charts in a doctor's office and school books for children are used in environments where unwelcome microorganisms are common.  When bacteria are exposed to the agents on BioLam film, the life cycle processes of the organism are interrupted and the reproductive capabilities are affected.
What is

BioLam?
BioLam is a thermally applied laminating film, enhanced with an antimicrobial protection, that is built into the structure.  Antimicrobial films are used in order to reduce the growth of bacteria and mild on surfaces.
Who will benefit from

 

BioLam?
Hospitals and clinics, schools and daycare facilities, dental offices, restaurant and food service environments, retailers, etc. would all benefit from BioLam.
BioLam Applications:
BioLam can be used on classroom materials, instruction or reference sheets, menus, manuals, book covers, charts, counter mats and more….the uses are endless.
Incorporating BioLam on your printed material will satisfy the need for maintaining a hygienic environment by providing another line of defense against the growth of bacteria, mildews, molds and fungi.  BioLam is the most effective way to control the growth of microorganisms on laminated items that are used on an everyday basis, making your environment a cleaner place.